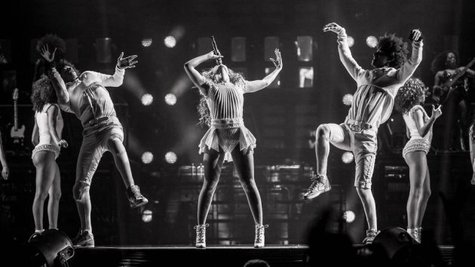 Over the years, plenty of stars have had their often jaw-dropping backstage demands revealed. But if new details regarding Beyonce 's list of concert must-haves are true, then Queen Bey has just out-diva'd everyone.
The Australian website The Fix claims that among Beyonce's must-haves on her current Mrs. Carter World Tour are $875 worth of drinking straws made of titanium, which she uses to sip special "alkaline" water kept at exactly 69 degrees. On top of that, Bey requires a hand-carved ball of ice to suck on after every performance to cool down her raw throat.
But wait, that's not all. An insider tells The Fix that Beyonce also mandates that her dressing room have plain off-white walls and -- get this -- red toilet paper, and that a new toilet seat must be installed at every venue. She also insists that everyone on the crew wear only 100 percent pure cotton clothing.
As for backstage snacks, Blue Ivy 's mom has banned junk food, and instead requires glass platters of almonds, oatcakes and green crudités.
The source tells The Fix, "Working so hard and with the toll the travel takes on her body in addition to the intense shows, she feels that her requests aren't too much to ask for as she wants to ensure everything goes to plan."
Of course, there's no word on whether any of this is true, but if it is, supermarkets across the world had better be stocking up on red toilet paper right about now.
Copyright 2013 ABC News Radio