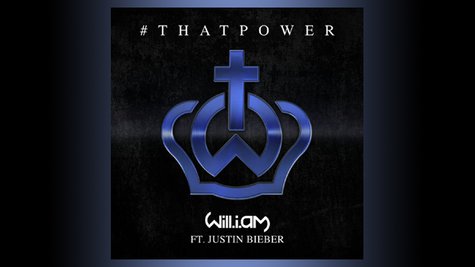 Last year, a track list for Will.i.am's long-awaited solo album leaked online, and one of the collaborations listed was with Justin Bieber . At the time, Will shot down the track list as "bogus," but it turns out Justin's on the album after all.
On Friday, Will appeared on London's Capital FM to premiere his collaboration with the Bieb, called "#thatpower." It's pronounced "Hashtag That Power," according to Will, and it features Justin singing the hook, plus some heavy, thumping electronic beats and Will's electronically-treated vocals.
Will revealed that he and Justin recorded the song last month in London. "We actually we went shopping first and we were like 'Hey, let's just have a chill day,'" says Will. "And we went shopping for shoes, then after that we went to the studio, watched the [BRIT Awards], recorded that and then trucked off to see Justin Timberlake perform. So that was a pretty full day."
"#thatpower" is from Will's upcoming solo album #willpower , which is supposed to be released next month, though it's been delayed numerous times. The disc will also feature his hit collaboration with Britney Spears , "Scream & Shout."
Copyright 2013 ABC News Radio