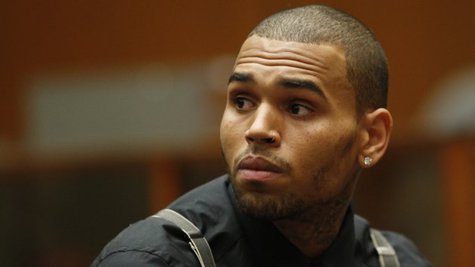 Chris Brown allegedly got into an altercation with his bodyguard, known as Big Pat , on a re-fueling stopover in Bermuda on Wednesday.
An airport worker tells the Bermuda Sun , "I'm not sure of the details of what happened on the plane but his plane came in, got serviced and everything was finishing and they were getting ready to leave." The source continues, "Then there was a stall. The security guard got off first. He was standing outside talking to the pilot. Then Chris Brown and another guy came off."
Once the passengers deplaned, they were forced to go to customs, after which the security guard allegedly told Brown that he was not going to get back on board the aircraft. The airport worker then says the pair got into some kind of altercation. Then, "Chris went back through customs and the plane left at about 2:20 p.m."
The eyewitness reports that Big Pat made arrangements to leave on JetBlue's afternoon flight to JFK and saw him getting on the plane. The newspaper could not confirm that with the airline.
Following the reported drama in Bermuda, Chris found himself at odds with a valet in California. TMZ video shows him getting into it with a valet stationed in front of a Studio City bowling alley where Chris had dropped in on a charity event Wednesday evening. "Give me my f**king keys," Chris snarled at the valet, who responded, "Give me $10."
Certainly, Chris had the dough, but according to TMZ he felt that paying wasn't fair because of the short time his car was in the valet lot. "F**k $10! Give me my keys... We gon' turn this whole spot up, I promise you," Chris threatened the valet.
Eventually, someone in his entourage paid the fee and Chris got the keys to his ride. "Funky ass $10," Chris said as he walked to the vehicle, then hopped in.
Copyright 2013 ABC News Radio