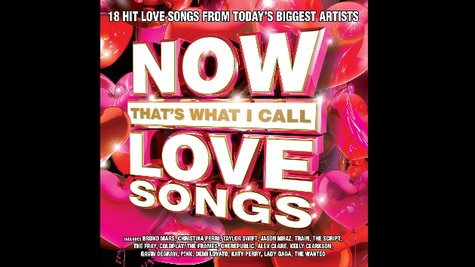 On January 22, just in time for Valentine's Day, the folks behind the NOW That's What I Call Music! series of albums are putting out a collection of romantic tunes in a disc called NOW That's What I Call Love Songs . Except, upon closer inspection, some of the songs included aren't exactly the tunes you'd want to play during a candlelit evening with your sweetheart.
For example, one of the songs included is Christina Perri 's "Jar of Hearts," which is about turning away a former lover who wants to get back together because he was a bad boyfriend. Another song, Pink 's "Please Don't Leave Me," is about a dysfunctional, violent, love-hate relationship. Gavin DeGraw 's "Not Over You" is about a guy who's depressed because his girlfriend left him.
Katy Perry 's "The One that Got Away" is a bittersweet song about losing your one true love, while Alex Clare 's song "Too Close" is about a breakup, with a chorus that goes, "It feels like I am just too close to love you/so I'll be on my way." And few would call The Wanted 's "Glad You Came" a love song -- it's pretty much a "lust" song.
Thankfully, there are some actual romantic songs on the album to balance it out, including Bruno Mars ' "Just the Way You Are," Train 's "Marry Me," Lady Gaga 's "You and I" and Jason Mraz 's "I Won't Give Up."
Here's the track listing for NOW That's What I Call Love Songs :
"Just the Way You Are" -- Bruno Mars
"Jar of Hearts" -- Christina Perri
"Ours" -- Taylor Swift
"I Won't Give Up" -- Jason Mraz
"Marry Me" -- Train
"For the First Time" -- The Script
"Heartbeat" -- The Fray
"Fix You" -- Coldplay
"Falling Slowly" -- The Frames
"All This Time" -- OneRepublic
"Too Close" -- Alex Clare
"Dark Side" -- Kelly Clarkson
"Not Over You" -- Gavin DeGraw
"Please Don't Leave Me" -- Pink
"Give Your Heart a Break" -- Demi Lovato
"The One That Got Away" -- Katy Perry
"Yoü and I" -- Lady Gaga
"Glad You Came" -- The Wanted
Copyright 2013 ABC News Radio