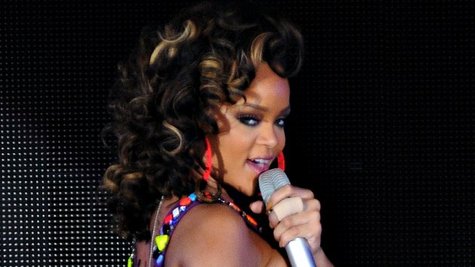 Rihanna will open the MTV Video Music Awards this Thursday with help from a special guest, A$AP Rocky . MTV confirmed the collabo on Tuesday, the same day the network exclusively premiered an A$AP-assisted remix of Rihanna's "Cockiness (Love It)."
Rihanna will perform the remixed Bangladesh -produced track, with help from A$AP, at the VMAs. And she'll also get a hand from producer Calvin Harris , who'll join her for their Talk That Talk smash, "We Found Love."
Immediately following Rihanna's performance at the VMAs, fans can download the "Cockiness (Love It)" remix from iTunes. In the meantime, fans can listen to the revamped song on Rih's official website , as well as Rihanna.MTV.com .
MTV has more surprises in store, of course. The network reveals that Nicki Minaj will perform alongside a secret guest at the awards show. Her "Beez in the Trap" collaborator 2 Chainz will also be on hand, making his VMA-debut.
Lil Wayne is also slated to get in on the show, performing a track from his just-released Dedication 4 mixtape.
For the first time, MTV will hold the VMAs at the Staples Center in Los Angeles. The broadcast starts at 8 p.m. ET, and will include previously reported performances from Frank Ocean , Pink , Taylor Swift and more. Wiz Khalifa and Mac Miller are among the stars who've been confirmed as presenters.
Copyright 2012 ABC News Radio