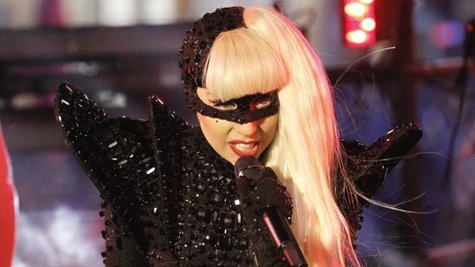 Lady Gaga's concert in South Korea last month caused some controversy when fans under age 18 were banned from attending, and conservative Christians in that country protested the show on the grounds that she promotes homosexuality. Now, Gaga is facing similar opposition in Indonesia.
The Wall Street Journal reports that a hard-line Muslim group called Islamic Defenders' Front is calling for the cancellation of Gaga's June 3 show in Jakarta. A spokesperson for the group said, "Lady Gaga insults all religions. Even Christians in Korea opposed her. She is promoting the worship of Satan."
Last week, The Jakarta Post reports that chairman of the Islamic Defenders Front made a vague threat of violence if the concert wasn't canceled. "If you want chaos in Jakarta, just continue to hold the concert," the chairman as quoted as saying. Back in March, a Muslim scholar told the Jakarta Globe that Gaga's performances were forbidden under Islam because she wears revealing clothes onstage.
In more encouraging overseas Lady Gaga news, Bloomberg reports that an autographed teacup and saucer that she donated to a Japanese charity auction has raised six million yen -- that's $75,000 -- to help sponsor young Japanese artists who want to study in the U.S. The cup hasn't been washed since Gaga drank Diet Coke out of it at a press conference last June in Tokyo. It bears her lipstick print and the words "We Pray for Japan."
Copyright 2012 ABC News Radio