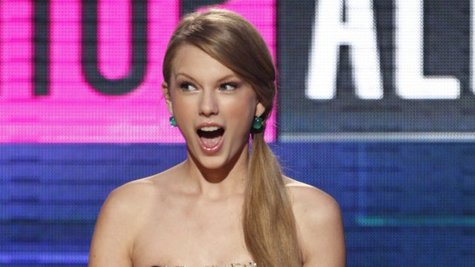 It's been rumored for a while, but on Thursday, T.I. confirmed to Fuse that B.o.B has indeed collaborated with Taylor Swift on a song for his sophomore album Strange Clouds , due in stores May 1.
During the Fuse interview, B.o.B was asked about the rumored collaboration, but said he could "neither confirm or deny" it. But T.I. interrupted to say, "I can. I heard it." The whole project started, B.o.B then revealed, when Taylor "came to Atlanta and hit up Grand Hustle." In other words, it was her idea.
Taylor and Bobby Ray's Strange Clouds collabo won't be the first time they've worked together. At her October 9 Speak Now tour stop in Dallas, B.o.B joined Taylor onstage to perform his hit "Airplanes." And in December, T.I. joined Taylor to perform his hit, "Live Your Life" at her Atlanta show.
Speaking about Taylor to Fuse, T.I. said, "She's extended Hustle gang, she a part of the crew. She just ain't got her dog tags yet."
Taylor Swift and hip-hop are not mutually exclusive, of course. After all, her rendition of Nicki Minaj 's "Super Bass" went viral last year. And who could forget her "Thug Story" video with T-Pain , in which she spit rhymes about baking cookies and knitting sweaters as her hip-hop alter-ego T-Sweezy?
Copyright 2012 ABC News Radio