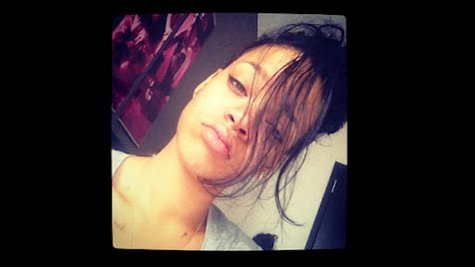 Despite getting a new tattoo on Saturday, Father's Day found Rihanna looking pretty glum.
On Saturday, Rihanna revealed several images of a new tattoo via Twitter. One image showed a close up of her right ankle sporting the new art -- an ancient Egyptian sort of stylized falcon in a shape reminiscent of a handgun -- with the message, "Falcon: a light that shines in the darkness! Never close their eyes during sleep." RiRi also tweeted a photo showing her foot in a bright blue stiletto with the ankle adorned with the flighted falcon tat along with th e declaration, "Falcon s****!!!!"
U.K. newspaper Metro reports that the tattoo is believed to be Rihanna's 17th and that the work was done at the singer's favorite tattoo parlor, Bang Bang, located on New York City's Lower East Side
But after her tattoo excitement on Saturday, RiRi seemed a bit somber on Father's Day. The singer first tweeted "Big papa" along with a photo of a smiling Rihanna and father, Ronald Fenty , from the most recent Grammy awards night where she wore a black Armani dress with plunging neckline. Shortly after, RiRi tweeted a picture of her alone, sleepy-eyed and pouting, along with the comment, "Sleepy face! Daddy I wish you were here."
Ever on the move, RiRi was later photographed wearing a Lil Wayne Trukfit baseball cap, long-sleeved grey Rodarte's Radarte shirt, ripped jeans and Timberland boots on her way to visit her grandparents in New York, reports the website TaleTela .
Copyright 2012 ABC News Radio