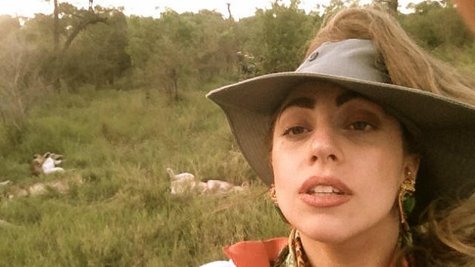 Lady Gaga channeled her inner animal while on safari on Friday. The singer, in South Africa for her Born This Way ball, tweeted pictures of herself looking fashionable as she came within a few feet of a pride of lions.
Gaga arrived in South Africa on Wednesday, but on Friday, she sent out a series of excited tweets about her encounter with that country's wild animals. Gaga wrote , "SAFARI PICTURE: in this photo I'm about 10 feet from 13 lions, 2 cubs. I spent about 30 minutes w them and took a nap!" She included a picture of herself in front of some lions in the grass. In her next tweet , Gaga detailed that "the lion pride even woke up at one point and let us come closer :)" and added , "isn't she beautiful!"
Gaga's fashion choices in the outback were a combination of resourceful and royal. The singer included the hashtags #SafariBarbie and #Glambi in her tweet , writing, "& yes I cut a hole in my bush hat so my pony[tail] could stick out... my scarf was a gift from the Princess of Monaco, thanku!"
Copyright 2012 ABC News Radio