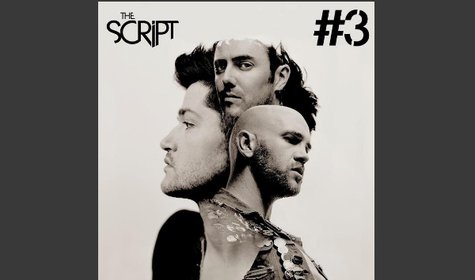 The Script has unveiled the track listing for their upcoming third album, appropriately titled #3. The disc, due out October 9, is now available for pre-order on iTunes.

The deluxe version of the album features four live cuts, recorded last July at the band's biggest show to date: a sold-out gig for 50,000 fans at Dublin's Aviva Stadium. That concert was released on DVD, but not in the U.S. The live tracks include "The Man Who Can't Be Moved," "Breakeven" and "For the First Time."
The deluxe version of #3 also includes a "making of" documentary, and two versions of The Script's new single, "Hall of Fame." One features Black Eyed Peas frontman Will.i.am -- who was a coach on the U.K. version of The Voice along side Script singer Danny O'Donoghue -- and the other is just the band.
Here's the track listing for the deluxe version of #3 :
"Good Ol' Days"
"Six Degrees of Separation"
"Hall of Fame" ( feat. will.i.am)
"If You Could See Me Now"
"Glowing"
"Give the Love Around"
"Broken Arrow"
"Kaleidoscope"
"No Words"
"Millionaires"
"Moon Boots"
"Hurricanes"
"Hall of Fame" (Original Version)
"Breakeven" (Live at the Aviva Stadium, Dublin)
"The Man Who Can't Be Moved" (Live at the Aviva Stadium, Dublin)
"Talk You Down" (Live at the Aviva Stadium, Dublin)
"For the First Time" (Live at the Aviva Stadium, Dublin)
Video: Making of #3
Copyright 2012 ABC News Radio