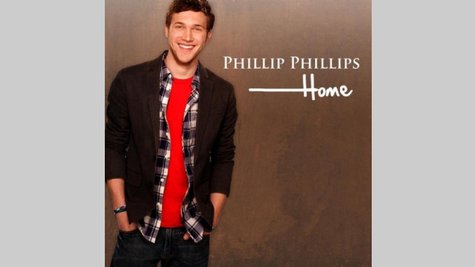 American Idol champ Phillip Phillips ' single "Home" has soared on the charts and racked up more than 200,000 downloads since NBC decided to use it to soundtrack its coverage of women's gymnastics at the London Olympics. But how did the song end up on NBC in the first place? Turns out an NBC/ American Idol family connection made it happen.
Entertainment Weekly reports that Megan Michaels , the daughter of senior Olympics producer David Michaels is a supervising producer of American Idol, so he always watches the show. He tells EW, "My wife and I were actually sitting at home watching the finale, and I heard the song for the first time, and I said to her, 'Wow, I bet I could use that in the Olympics on some night.'"
In a strange coincidence, EW, reports, the next day a guy who works for 19 Entertainment, the company that manages many American Idol contestants, asked Megan if she knew anyone working at the Olympics who he could pitch the song to. "Yeah, I do -- my dad," was her response.
After David Michaels and the 19 guy chatted, Michaels tried putting "Home" under some old gymnastics footage to see if it would work, and it did. "It was one of those a-ha moments of, 'Wow, this could really be something cool,'" he tells EW.
Michaels also says the lyrics of the song made it work, explaining, "[It] has got a team feeling to it –- it doesn't really work as well for an individual. So, it fit perfectly for the team concept." He says we'll hear it one more time -- in a piece that will air on the team championship during the final day of the Olympics.
Copyright 2012 ABC News Radio