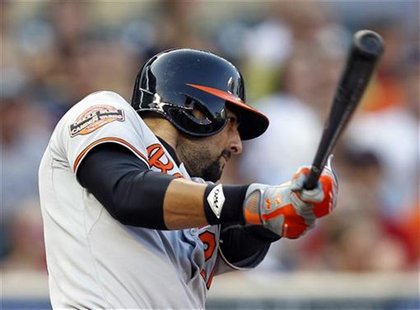 By Steve Ginsburg
BALTIMORE (Reuters) - Nick Markakis has never played on a winning team in the majors so he can be forgiven for being a little giddy that the Baltimore Orioles are still playing meaningful games this late in the season.
Not only are the once-proud Orioles poised to end a 14-year losing streak, they are actually in the hunt for a wild card berth.
"It's been fun," Markakis, a seven-year Major League Baseball outfielder who has played his entire career with the Orioles, said Tuesday in the upbeat Baltimore clubhouse.
"Everyone in the clubhouse has one mindset. We're trying to extend our season when it's over. We just have to take it game by game. We can't look ahead of ourselves.
"We've just got to be patient and play good baseball."
Baltimore was 58-51 heading into Tuesday's game against the Seattle Mariners, just a half-game out of the newly created second wild-card spot in the American League.
When the Orioles won their 58th game a year ago, they already had 85 losses.
Much of the credit for the turnaround is being given to Buck Showalter, a two-time American League manager of the year who is just in his second full season in the Orioles' dugout.
"Guys are held accountable," said outfielder Adam Jones, whose 24 homers are just one shy of his career-high. "They see what Showalter is doing. He ain't going to just sit there and watch you suck. He's not going to sit there and watch that."
The Orioles are on the cusp of their first postseason since 1997 despite a careful re-tooling of their roster due to a rash of injuries and several players who failed to pan out.
They lost two leadoff hitters (Brian Roberts and Nolan Reimold) for the year with injuries, and three of five pitchers in their opening day rotation are either hurt or in the minors.
Five-time All-Star slugger Jim Thome, in his first year with the Orioles, is out until at least September with a herniated disk. The list goes on and on but the club has endured.
"It takes 25 guys but it's been taking a lot more guys this year for us," said Markakis. "That's what it takes to have a championship team.
"We've just got to go out there and continue what we're doing and take it game by game. We have the talent. It's just a matter of throwing some pieces around."
When asked about his team's lack of playoff experience Showalter said, "I hope it's overrated." He added, however, there are "different types of pressure."
"I don't think there's anybody in here that doubts the playoffs, in some form or situation, is going to be decided on the last day or two of the season," he said.
"We're just more in tune with trying to do the things that make us a part of that."
NOT SATISFIED
Orioles closer Jim Johnson, whose 33 saves this season are already tied for seventh all-time for the Orioles, said, "Our goal is to win each series at this point and see where that gets us at the end of the year."
"It's enjoyable but when we look at it, we're not satisfied," he said. "We have an alternate goal of where we want to be, what we think we can be."
Showalter, whose prior managerial stops were with the New York Yankees, Arizona and Texas, agreed and said he wants to return the franchise to the time where making the playoffs was as certain as a sell-out on opening day.
And, he said, he hopes the long-awaited reversal of fortune begins with a playoff game this October.
"It would be a valuable experience for a lot of our guys who I think are going to be around that atmosphere for a lot during their career," he said.
(Editing by Frank Pingue)