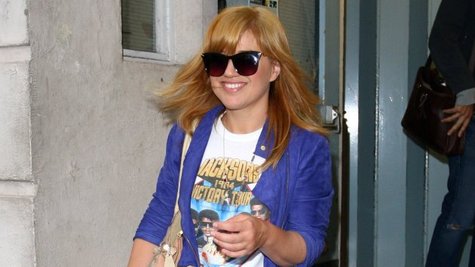 Kelly Clarkson was the world's first American Idol, and since she won the competition there have been 10 additional champs. But who's her favorite out of those winners? The answer may surprise you.
Asked by USA Weekend to name her favorite Idol, Kelly named season two champ Ruben Studdard , explaining, ""He's sweet & talented & we get along great!"
Kelly also revealed to USA Weekend that her "guilty listening pleasure" is Carly Rae Jepsen 's "Call Me Maybe": join the club, Kelly. Her favorite person to follow on Twitter is Ellen DeGeneres , who she calls "hilarious," and her favorite TV show is ABC's fairy-tale fantasy Once Upon a Time.
A few more of Kelly's faves, according to USA Weekend:
Snack : "Fruit -- blueberries & melon. It's always accessible."
Day-off activity: "At the dog park with my dogs."
Time of day: "Early -- 6 a.m. -- 'cause everything is peaceful & my phone hasn't started ringing yet!"

Vacation spot: Whistler, Canada because "I love snow boarding & it's beautiful there."
Way to chill out : "Wrap up in a blanket and watch a movie. Sometimes just checking out is the best way to relax."
Copyright 2012 ABC News Radio