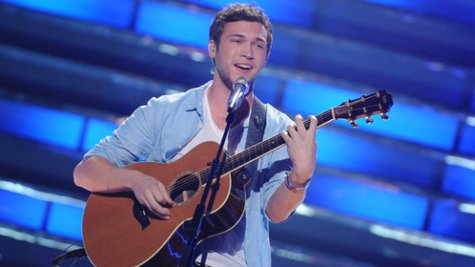 Phillip Phillips ' song "Home" has gotten plenty of exposure thanks to its use in NBC's Olympics coverage, and now, finally, there's an official video for the American Idol champ's coronation song.
Like the artist, the clip is extremely low-key. In a mix of black-and-white and color, we see Phillip on a tour bus, looking out the window as the endless vistas of America roll by. We see him writing songs, performing on stage, drinking coffee in a diner and playing his guitar on the bus surrounded by other musicians. His real-life girlfriend has a brief cameo, according to MJsBigBlog.com .
Oddly, in the video, there's never any sense that Phillip's on tour with anyone else, even though he currently is in the middle of the American Idols Live tour with Jessica Sanchez , Joshua Ledet and the rest of the season 11 finalists.
Meanwhile, sources tell Billboard that thanks to the use of the song in the Olympics, "Home" could sell 200,000 additional downloads by the time the new chart are revealed. The song, which originally reached the top 10 but then fell out of it, could be back in the top 20 by next week.
Reacting to the increased Olympic sales of "Home," Phillip told Entertainment Weekly , "It's really awesome that they chose the song....it's unreal. Television is an amazing thing." Phillip will perform the song on NBC's Today show on August 28 and on Live with Kelly on September 4.
Copyright 2012 ABC News Radio