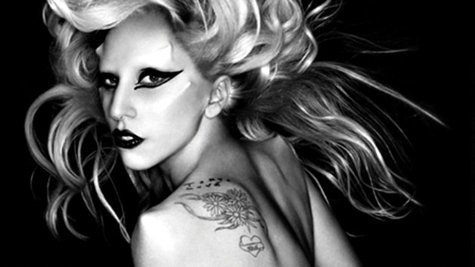 How determined is Lady Gaga to make her Born This Way Ball the greatest tour ever ? Very.
"I will perform the tour of your life if it f**king kills me," she tweeted. Gaga is currently in Seoul, South Korea, preparing for the tour kickoff on Friday, and she's been steadily tweeting updates about how happy she is with the stage design, and how hard she's working physically to get ready.
Not much is known about the stage design, except for the fact that it appears to look somewhat like a medieval castle, and select dates will include a "Monster Pit," where a limited number of Little Monsters -- chosen because they've waited the longest or are wearing the best costumes -- will be able to stand and get close to Mother Monster. We also know that Gaga's costumes are designed by Giorgio Armani and at least one includes a headpiece shaped like a keyboard.
With all this new razzle-dazzle, Gaga insists she'll be able to top the Monster Ball for sheer spectacle and breathtaking stagecraft. "I will," she tells ABC News Radio. "I always find a way."
But Gaga's shows aren't just about spectacle -- they're about the music. The tour will highlight the entire Born This Way album, as opposed to the few select songs she performed from it during last year's Monster Ball. Judging from the reaction she got last year to those songs, it seems Gaga's fans will be pretty enthusiastic about hearing more of her new music.
"It's been a really interesting experience seeing the fans react to [the new songs]," Gaga told ABC News Radio last year. "Unlike my first two records, it was only the singles that would make the fans really excited when I came out on stage...now, every single song that I play them, they're singing every word back and dancing and singing as if it's been around for 10 years."
Gaga says to her, that response indicates that she's achieved her goal with Born This Way -- her goal being to create "a real album, a real statement," she explains. "Something [where]...every song needs one another."
Gagsr's decision to begin the Born This Way Ball in Asia has not been without controversy. Fans under 18 are banned from attending Friday night's show in Seoul, while there have been reports of Korean Christians rallying and praying that Gaga would cancel the concert because, in the words of one organizer, it will spread" homosexuality and pornography around the country."
Following the show in Korea, the Born This Way ball will head to China, Japan, Taiwan, the Philippines, Thailand and Singapore. Australia and New Zealand are next, followed by Europe. Those dates will take Gaga into the fall; so far, North American dates have not been announced.
Copyright 2012 ABC News Radio