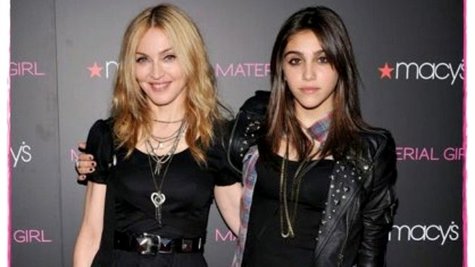 Madonna may be totally in control of her career, but she doesn't have that same control over her teenage daughter. Last month, a picture of 15-year-old Lourdes smoking a cigarette popped up in the press, and in an interview airing tonight on NBC's Rock Center , the superstar mom reveals her less-than-thrilled reaction.

In a preview clip of the interview, which aired on NBC's Today Wednesday morning, interviewer Harry Smith says that when he saw the photo, he asked himself, "How did Madonna react to that?" "She wasn't happy," Madonna replied. When Smith asks if Madonna is a "tough mom," she admits, "I think I am but honestly, I don't think I'm as tough as I should be. I think I need to be, maybe, tougher. It's hard, every day is a negotiation. But cigarette smoking, I'm not very fond of. For anyone."
When Smith points out that a recent video of Madonna shows her smoking a cigarette, she acts annoyed and protests, "I don't smoke! That's just an accessory, Harry! There's a difference!" Then she laughs and says Lourdes "smoked that cigarette before I did that video! So she didn't get that from me, ok?"
Madonna also reveals in the preview clips that she was "very elated" when her current album MDNA debuted at #1, but admits that despite her success, it is sort of hard being Madonna. "Yeah, I mean I think it's hard, we all have our challenges, to be a single mother of four and work as much as I do and live my life in a kind of metaphorical fishbowl," she tells Smith. "It's pretty challenging, yeah. But so far I've survived with sanity and humor intact."
Watch Madonna's entire sitdown with Smith tonight on NBC's Rock Center at 9:00 ET.
Copyright 2012 ABC News Radio