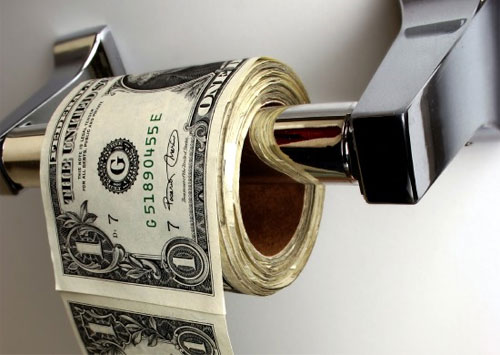 (TV Guide) Who are Hollywood's highest-paid celebs? Media mogul Oprah Winfrey topped Forbes' list of the highest-paid celebrities, raking in $165 million between May 2011 and May 2012. Winfrey, whose earnings actually fell by $125 million from the previous year, remains at the top thanks to the final season of The Oprah Winfrey Show, as well as her eponymous magazine, OWN, her spin-off shows and Sirius radio deal. Coming in just behind Winfrey is movie director Michael Bay, who earned $160 million. His Blockbuster film Transformers: Dark Side of the Moon, which he earns profits on, took in a whopping $1.1 billion at the box office. Steven Spielberg took the No. 3 spot, earning $130 million in the last year. His company DreamWorks produced Falling Skies, Terra Nova and Smash for television and the Oscar-nominated films The Adventures of Tintin and War Horse. In the fourth spot is Jerry Bruckheimer with $115 million. His movie Pirates of the Caribbean: On Stranger Tides took in $1 billion at the box office. Dr. Dre landed in the fifth spot, earning $110 million thanks to HTC paying $300 million for a 51 percent stock in his headphone company, Beats by Dr. Dre. Rounding out the top 10 are Tyler Perry ($105 million), Howard Stern ($95 million), James Patterson ($94 million), George Lucas ($90 million) and Simon Cowell ($90 million). See the list of 21 Highest Paid Celebrities:
Oprah Winfrey
$165 million
The media mogul's earnings fell by a staggering $125 million from last year. However, even with the drop, she remains the highest earner on the list, just inching out director Michael Bay. It's been a challenging year for Winfrey, who signed off from her 25-year syndicated show and immediately turned her attention to struggling cable network OWN. The bulk of the earnings dive comes from lost income on The Oprah Winfrey Show, but her diversified portfolio includes O: The Oprah Magazine, spin-off shows like The Dr. Oz Show and a radio deal with Sirius. She does not earn a salary at OWN, which has faced ratings disappointments and financial issues since it premiered in Jan. 2011. As chairman and CEO of the joint venture with Discovery Communications, she hopes a recent restructuring, new programming and a distribution deal with Comcast will turn the network around.
Michael Bay
$160 million
Bay nabs the title of top-earning director this year thanks to Transformers: Dark of the Moon. The 3-D film brought in $1.1 billion at the box office. Bay has a great deal on the films, taking a solid chunk of the profits. He also earns big from Transformer toys. Adding to Bay's coffers this year: a Transformers ride at Universal Studios in Hollywood. Bay has earned the right to finally do a small film. Pain & Gain has a budget well under $50 million.
Steven Spielberg
$130 million
Spielberg's DreamWorks moved into television in a big way this year with four new shows, including Terra Nova and Smash. On top of that, the prolific producer stepped back into directing with two movies that hit theaters last Christmas, The Adventures of Tintin and War Horse. Both films were nominated for Oscars.
Jerry Bruckheimer
$115 million
Bruckheimer's Pirates of the Caribbean: On Stranger Tides was one of the highest-grossing films of 2011, bringing in $1 billion at the global box office. That was a nice change from 2010 for Bruckheimer, when his two big films, Prince of Persia and The Sorcerer's Apprentice stumbled at the box office. In the new Hollywood, though, even Bruckheimer can't get away with an out-of-control budget. Disney made everyone take big cuts for The Lone Ranger.
Dr. Dre
$110 million
The ageless super-producer's latest hit isn't a song, but rather a line of headphones. In August handset maker HTC paid $300 million for a 51% stake in Beats by Dr. Dre, the headphone company he co-founded with Interscope chief Jimmy Iovine in 2006. Each owned about a third of the company, pocketing about $100 million apiece, before taxes, from last summer's deal.
Tyler Perry
$105 million
Perry continues to be a busy, well-paid director/producer/writer/actor. His low-budget films, like the recent Good Deeds have built-in audiences and don't need to earn a ton of money to become profitable. Perry's most successful film was 2009's Madea Goes to Jail, which earned $90 million. He also has a successful TV empire that includes House of Payne, Meet the Browns and For Better or Worse.
Howard Stern
$95 million
Dwelling in the walled garden of satellite radio has been good for Stern's bank account, and it's probably spared him some FCC fines, but you can tell he misses being part of the broader culture. A new role as a judge on America's Got Talent gives him some extra visibility, along with a reported $15 million a year. It also gives him something to do with the free time he gained after signing a new contract that pays him less money in exchange for fewer days on the radio. Stern's relationship with Sirius appears to be cooling, and his defeat in a lawsuit against his employer over unpaid bonuses won't help.
James Patterson
$94 million
There's a reason Patterson's earnings just keep going up: Every year, he seems to write more books. In 2011, he released 14 titles, a group that includes adult thrillers and fantasy/sci-fi novels aimed at younger readers. A platoon of co-writers help to supplement his output. An adaptation of his "I, Alex Cross" is in the works, with Tyler Perry stepping to the role previously played by Morgan Freeman.
George Lucas
$90 million
Thanks to the massive success of the Star Wars franchise, Lucas earns more money just by waking up in the morning than many people will see in a lifetime. But Lucas plows much of that money back into his company Industrial Light and Magic, which provides effects for movies like Battleship and The Avengers. Lucas' passion project, Red Tails about the Tuskegee airmen, fizzled at the box office, bringing in only $50 million.
Simon Cowell
$90 million
Hits like American Idol don't grow on trees, as Simon Cowell discovered this year. The British music producer and TV impresario made headlines when he promised his new show, The X Factor, would at least match his old talent show in the ratings. It didn't, but the U.K. version of the show minted a breakout act, One Direction, for Cowell's label, Syco Records.
Glenn Beck
$80 million
Who needs Fox News? Beck is his own network now. GBTV, his Internet-only video channel, already has more than 300,000 subscribers, making it the biggest component of his fast-growing multimedia empire, Mercury Radio Arts. The conservative host and "rodeo clown" -- his words -- also has his own book imprint with Simon & Schuster, a news website called The Blaze, a live political comedy act and, of course, "The Glenn Beck Program," syndicated by Premiere Radio.
Elton John
$80 million
The 65-year-old pop-rocker is still going strong with over 100 shows in the past 12 months, including a lengthy Las Vegas stint. His animated film Gnomeo and Juliet brought in $200 million at the box office. He's also got his 34th album on the way. When he's not in the studio, his attention turns to new son Zachary, born in 2010 (Lady Gaga is the baby's godmother).
Tom Cruise
$75 million
Thanks to Mission: Impossible - Ghost Protocol , Cruise landed in the Top 10 of our Celebrity 100 this year. Cruise was all but written off after a string of incidents in 2005, including jumping on Oprah's couch and the subsequent "poor" performance of Mission: Impossible 3. This year proved that you should never underestimate Cruise's star power. Ghost Protocol earned $700 million at the global box office.
Dick Wolf
$70 million
Law & Order's creator hasn't suffered in the earnings department despite the original detective drama going off air after 20 seasons in 2010. The former advertising copywriter's real cash cow, Law & Order SVU, remains on the air. While speculation of the show's demise has been rife since Christopher Meloni stepped down from one of its two starring roles, Mariska Hargitay is committed to the show for another year. Even when SVU does wind down, Wolf won't suffer: he's paid as a producer now, but he'll continue making money in residuals when his shows air as reruns on TNT or USA.
Rush Limbaugh
$69 million
Think Limbaugh is mellowing after 40 years on the radio? Fat chance. The conservative host demonstrated both his impact on the culture and his intemperance with his attacks on a female law student and birth-control advocate. The resulting boycott by many advertisers didn't have much of an immediate financial impact on Limbaugh, but it may cut into his earnings if sponsors remain skittish. He's on Twitter now, by the way.
Manny Pacquiao
$67 million
Pacquiao was on the wrong end of a wildly controversial split decision in his June bout against Tim Bradley, his first loss in seven years. Pacquiao has become a pay-per-view stud, with five fights each generating at least one million PPV buys during the past four years. Pacman has expanded his endorsement reach by signing deals with Monster Energy and Hennessy. His longtime partners include Nike and Hewlett-Packard.
Dr. Phil McGraw
$64 million
Despite ranking 17th on our list of the highest-paid celebrities, McGraw failed to make the cut for our Celebrity 100 this year. That's because in the "personality" category, he was pushed off by more famous folks like Kim Kardashian. But McGraw can cry all the way to the bank. He earned $46 million more than the reality star.
Donald Trump
$63 million
The Apprentice, now in its twelfth season, once again helped keep The Donald relevant while raking in extra cash. The real estate mogul also reaps millions from his books, speaking engagements, pageants, and ever-expanding portfolio of products. The Trump stamp can be found on products ranging from alcohol to neckties to high-end mattresses. Want to smell like The Donald? Now you can. This year, he launched a fragrance collection for men called Success by Trump.
Ryan Seacrest
$59 million
After signing on to host American Idol for at least two more years, Seacrest also recently inked a new deal with Comcast that extends his presence within the company from E! to NBC, where he'll cover news, sports and entertainment. Seacrest also produces TV shows like the Keeping up with the Kardashians franchise and his latest, Shahs of Sunset, about Iranian-Americans in Beverly Hills. Seacrest also endorses brands like Bing and Coca-Cola.
Britney Spears
$58 million
Conspicuously absent from our 2011 list due to limited touring, Britney blasts back into the top 20 this year with over 75 shows in the past 12 months. She also earns millions from endorsements and a fragrance line with Elizabeth Arden. Her latest album, Femme Fatale, earned platinum certification in the U.S. The pop princess still attracts plenty of tabloid attention, especially in the wake of her December 2011 engagement.
Tiger Woods
$58 million
Tiger Woods broke a 30-month winless streak on the PGA Tour when he won the Arnold Palmer Invitational in March. His income is down, as sponsors like Tag Heuer and Gillette failed to renew their endorsement deals with Woods. His golf course-design business is also on the ropes. But Woods remains one of the world's highest-paid athletes, thanks to his Nike deal. He has won more than $100 million in prize money worldwide during his career.